Welcoming address by H.E. Mr. Raimonds Jansons Ambassador of Latvia to Estonia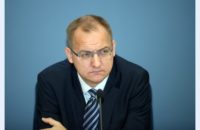 Dear Tallinn FoodFest guests and food lovers,
The year 2018 is highly symbolic both for Latvia and Estonia as we are celebrating the 100th Anniversary of our countries. And as in all important festivities food and culinary culture has a special place also in our celebration. We are very pleased to offer you great examples of Latvian cuisine and food producers during the main Estonian trade show for food.
Traditional cuisine perfectly represents the nature of a country. Throughout history our gastronomy have had many influences and they all have shaped the kind of Latvian cuisine we know today. Closeness to nature determines Latvian passion for mushrooming, berry picking and fishing. Traditions inherited from generation to generation show how many different recipes of one dish can be found throughout Latvian regions. And the changing seasons define the choice of products we put on our tables each time of the year. These are just few things, which characterise the features of Latvian cuisine.
I am glad to note that more and more Latvian products can be found in Estonian stores and outlets and vice versa. Our export numbers and investment flows are rising both ways. In agriculture, Estonia is one of our most important trading partners – during the first half of this year import and export grew more than 10%. Estonia is also among the largest investors in Latvia, as well as Latvian companies recently have made significant investments in Estonia, for example, bread and pastries producer "Liepkalni" and bistro chain "Lido". Moreover, Latvian and Estonian entrepreneurs nowadays find common interests to cooperate and work for their common wealth and growth of our national economies.
I am happy to note, that Latvia is widely represented in the Tallinn FoodFest 2018. This year for the first time you can find a special Latvian stand devoted to the centenary of our country. A range of Latvian food producers and entrepreneurs have come to Tallinn to present their best products and ideas.
Latvia and Estonia together have experienced many historical turns and twists, which have engraved common features in our nations and cultures. Still, while living in Tallinn I am very pleased to discover new and unique nuances of the Estonian culinary. Today I welcome you all to get acquainted with Latvian culinary art and gastronomic traditions, make new connections for future cooperation and jointly celebrate the centenary of Latvia here in Tallinn!
Raimonds Jansons


Ambassador of Latvia to Estonia
Friday, 26. October at 13:00 Embassy of Latvia in Estonia invites the Tallinn FoodFest participants and guests to a festive moment dedicated to the 100th Anniversary of the Independence of the Republic of Latvia (Latvian stand C-114)