What, where, when?! Information about Tallinn FoodFest 2018
Venue Address
Estonian Fair Centre
28 Pirita Road, Tallinn, Estonia
Opening hours
Thursday, 25 October, 10.00 – 17.00 (B2B)
Friday, 26 October, 10.00 – 17.00 (B2B)
Saturday, 27 October, 10.00 – 17.00 (B2B & B2C)
Entrance
Tallinn FoodFest is open only for professional visitor on

Thursday, 25 October, 10.00 – 17.00
Friday, 26 October, 10.00 – 17.00
Entrance with invitations, client cards and tickets.
Ticket for visitor 18 €.
Ticket with a client card 9 €, client cards are only distributed with invitations.
Entrance with correctly filled in invitation is free of charge.
Trade visitors must be at least 18 years old. Children will not be admitted.
Tallinn FoodFest welcomes all food lovers and opens for public on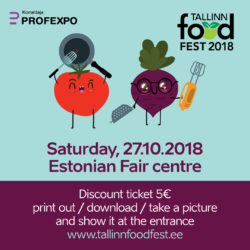 Saturday, 27 October, 10.00 – 17.00
Tickets for visitors 9 €.
Discount ticket 5 €.
Children (7 to 15 years) and pensioners 5 €.
Children up to 7 years – free of charge.
Children up to 12 years are only allowed into the food fair if accompanied by an adult.
Fair invitations are valid for one day and for visitors age 18+.
Cash / card payment
At the entrance to the fair you can pay by card.
There are NO ATM at the Estonian Fair Centre.
How to reach the Estonian Fair Centre
Please use  buses 1A, 6, 8, 34A and 38 and alight at stop "Lauluväljak". A bus goes to the fair centre approximately every 10 minutes.
A taxi from the city center costs approximately 7 €, from the harbor 7 € and from Lennart Meri Tallinn airport 10 €
Parking
Parking is on the east-side of the fair centre. A parking ticket is 5 € and is valid for one entrance.  There is room for 400 cars in the parking area.
Tallinn FoodFest catalogue
The Tallinn FoodFest Magazine is an unique food trade publication and includes TFF catalogue.
Online catalogue of participants see HERE.
WIFI
There is WiFi in the fair centre.
Wardrobe
For your convenience there is a cloakroom at the fair centre entrance. A service fee of 0.50 € applies, cash only.